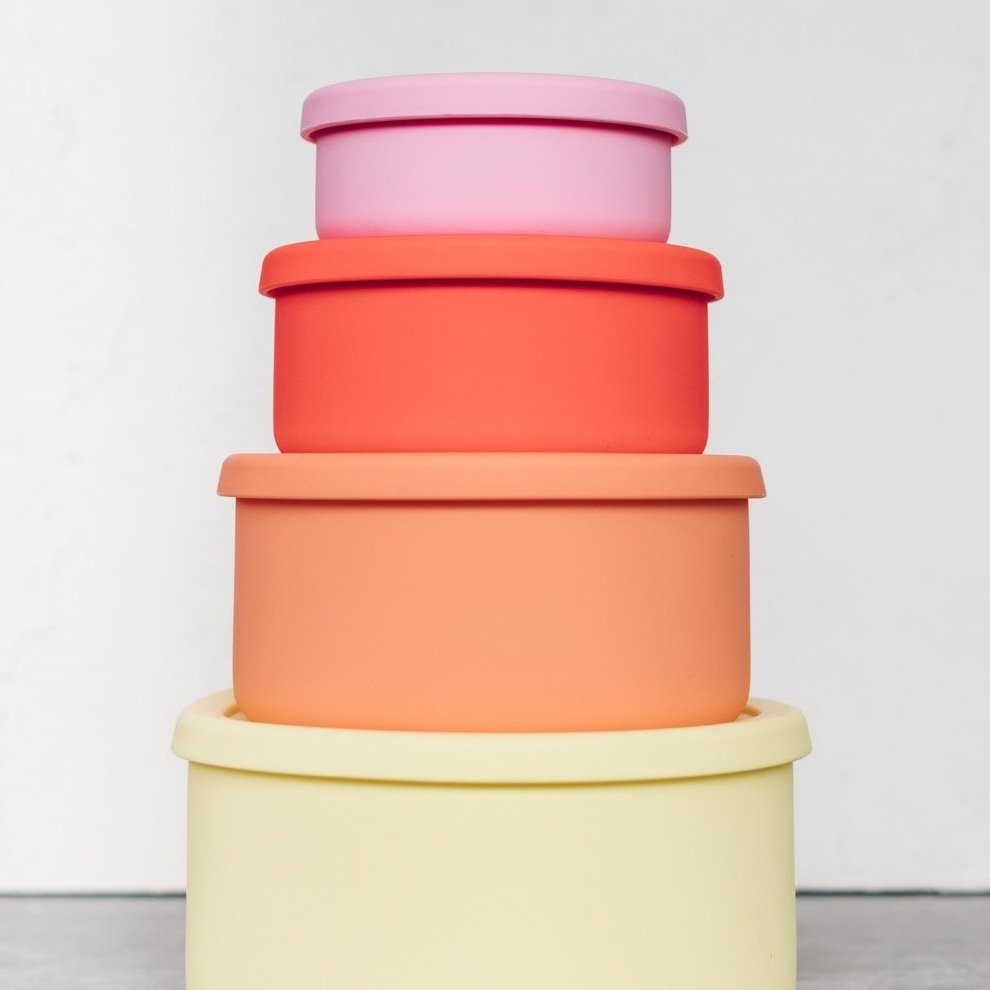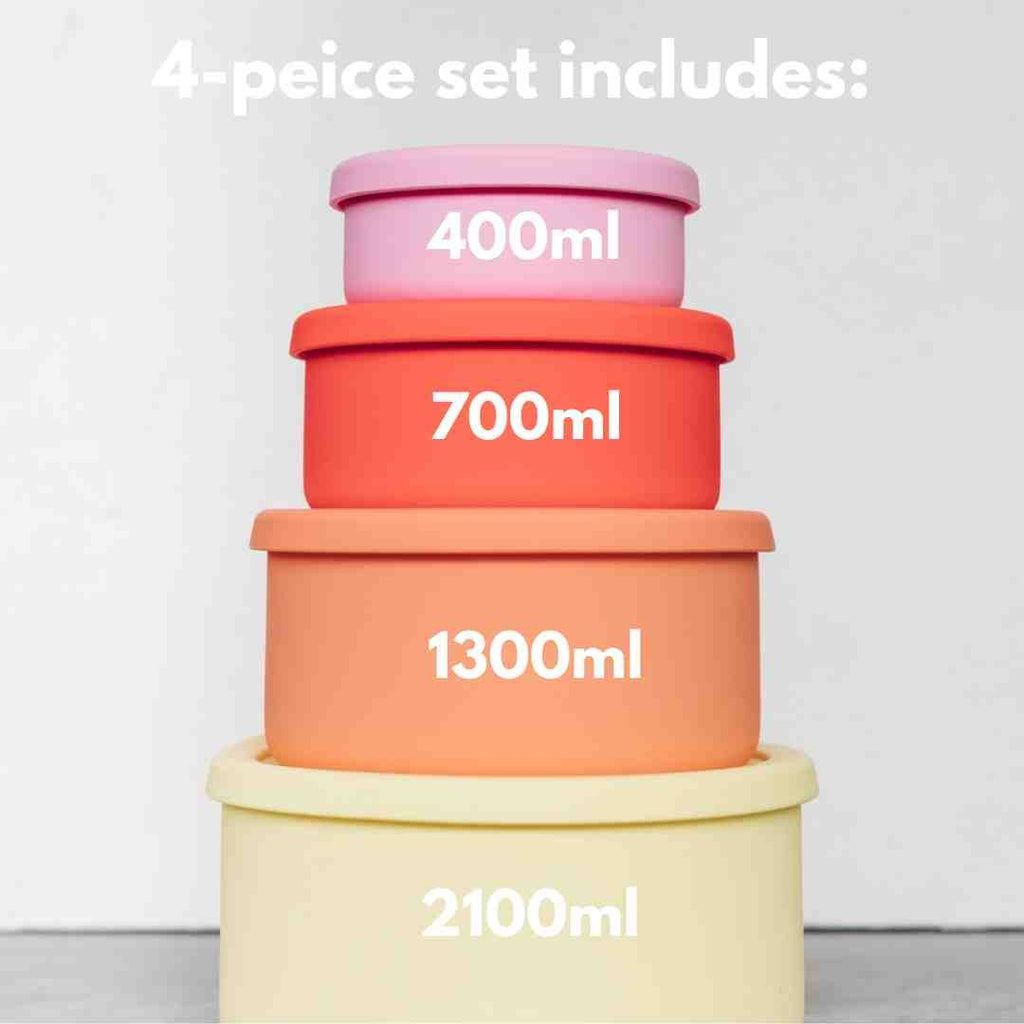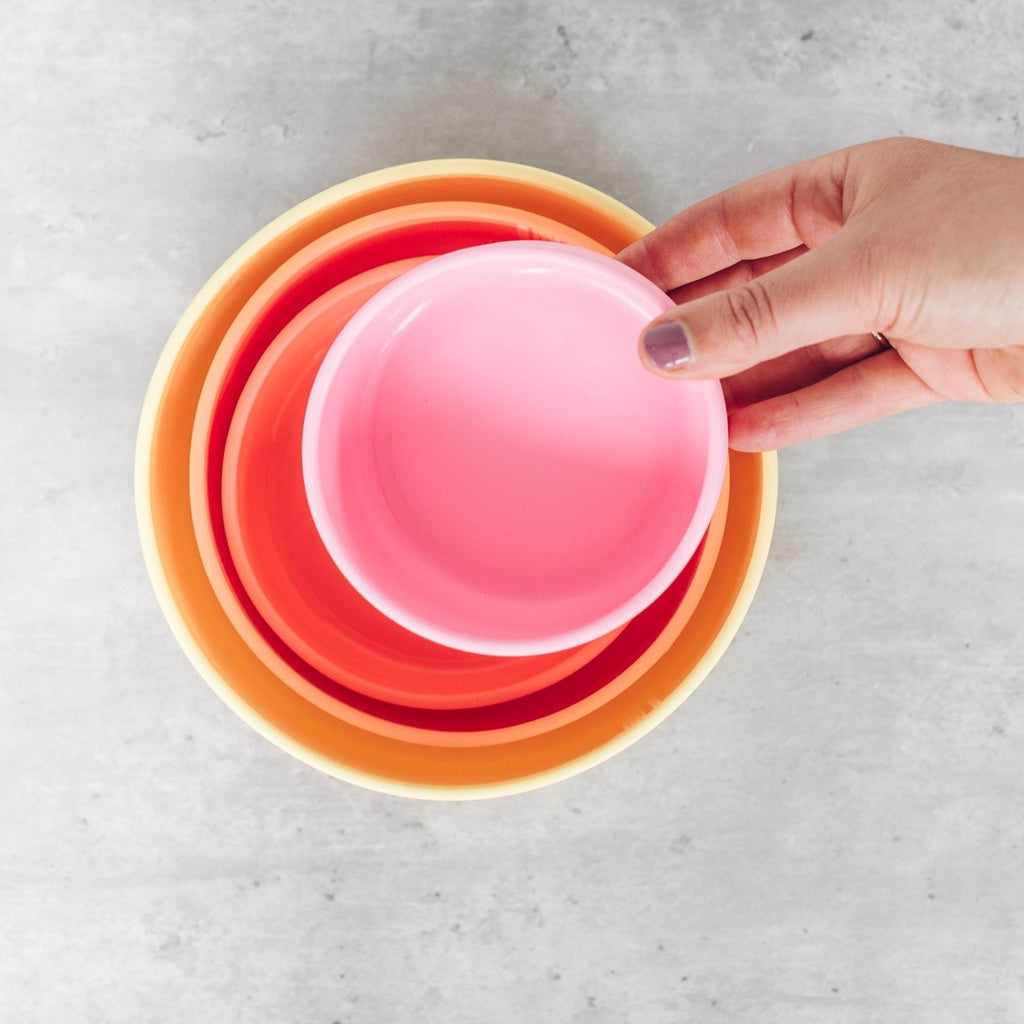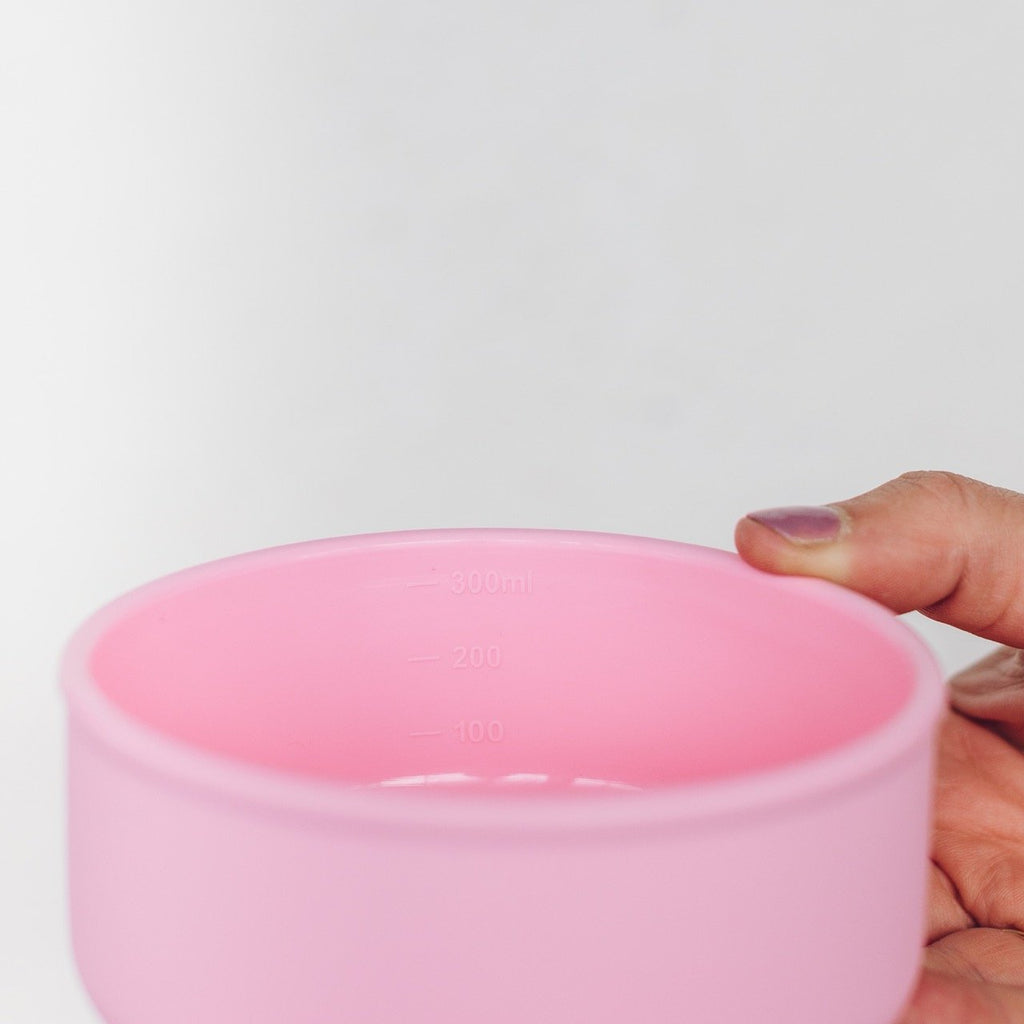 6 x SILICONE NESTING BOWL/CONTAINER SET OF 4 BOWLS IN 1 (39.94 EACH)
Suitable for the fridge, freezer, oven, microwave, Varoma tray and slow cooker.
why we ♥ them:
Made of 100% food-grade silicone, our containers are naturally non-stick and are BPA free, plastic free and phthalate free. They can easily and effortlessly be used in the freezer, fridge, oven, microwave, Thermomix Varoma tray and slow cooker, and when you're done they can be thrown in the dishwasher for easy cleaning! Use to store and then reheat leftovers, make a batch of soup, curry or pasta sauce and chuck it in the freezer (the same container can be used for freezing, defrosting and then heating), store healthy snacks on the go, use to ferment yoghurt, cook puddings and custards, you name it. They're ideal not just for use within the home, but also for lunches and travelling, with their airtight lids and unbreakable body (even if dropped).
Each set comes with four containers and four lids, ranging in size from 400ml to a large 2.1L, so you'll always have the perfect size available to you. They stack perfectly inside each other for easy and minimal storage. They're also incredibly durable and endlessly reusable, offering serious longevity in your kitchen… something that's incredibly important to us.
using in the Varoma tray:
We love using our containers in the Varoma tray to defrost and reheat homemade meals. Say you've got a delicious risotto in the freezer and you've just got home from work - if your risotto is in one of our silicone containers you can pop it straight from the freezer into your Varoma tray and steam to quickly defrost. You can even keep steaming and not just defrost but actually heat up your meal! As easy as that, with one container to do it all and minimal mess. You could even be heating your curry up in our containers in the Varoma tray, while cooking rice in the steamer basket underneath. How's that for nailing life?! And while your Thermomix bowl may be wet, it's not actually dirty - it just needs a quick dry and you're good to go.
While there's a lot of great things the Thermomix machine can do, one of the limitations we find is that when cooking delicate ingredients like fruit, fish and some grains, the constantly revolving blades can end up mashing things. So for these types of dishes, poached pears for example, we like to put all the ingredients in our silicone containers, pop the lid on and sit in the Varoma steaming tray and gently steam them - perfect results every time! And again, your Thermomix bowl is wet, but it's not dirty.
The largest of containers will only fit in the Varoma tray with the use of our MaxiSteam Varoma Extender, but the other three will fit perfectly without any additional attachments. We do recommend sitting your containers on a Stainless Steel Trivet inside the Varoma tray for maximum steam dispersion.
using in the slow cooker:
I always recommend a large, 6L slow cooker… but sometimes you just want to cook something smaller! So what you can do (I love this!) is follow the exact recipe but instead of putting your ingredients in the slow cooker insert, put your ingredients in one of our silicone containers. Then pop this (lid on) in your slow cooker, fill with enough water to come 1/2 up the sides of your container, and cook for the same time specified in the recipe. Easy! Your slow cooker insert doesn't need cleaning (just drying), and your dish is already in a storage container perfect for the fridge or freezer. In my cookbook Modern Slow Cooker, I use a lot of glass jars inside the slow cooker… any time a recipe specifies this you can replace with one of our silicone containers :)
All four container sizes will fit in a 6L slow cooker.
bragging rights:
• Incredibly versatile - use in the freezer, fridge, oven, microwave, Thermomix Varoma tray and slow cooker
• Tight-fitting, airtight lids
• Embossed liquid volume markers in millilitres for easy measuring
• Plastic-free, BPA-free, nasty-free storage solutions for your nutritious food
• Lightweight and unbreakable, when compared to glass containers
• Each container and lid fit's perfectly inside the next size up, making for easy storage
• Oven safe to 230C
• Microwave safe
• Freezer safe to -40C
• Dishwasher safe
specifics:
• made from 100% food-grade naturally non-stick silicone
• Small: pink colour, 400ml, diameter 120mm, height 55mm
• Medium: watermelon colour, 700ml, diameter 145mm, height 70mm
• Large: peach colour, 1.3L, diameter 170mm, height 85mm
• X-Large: limoncello colour, 2.1L, diameter 195mm, height 100mm
• Price is for all four containers - these cannot be purchased separately
PACKAGING NOTE: We are committed to looking after the globe and the animals and humans that inhabit it. The average Australian sends 200kg of packaging waste to landfill every year – we want to change that, and are therefore phasing out all non-compostable packaging. This means that many of our products (including this one) will be sent to you 'nude', just as you see in the product images. We apologise if this causes any inconvenience – we are also partial to fancy packaging.